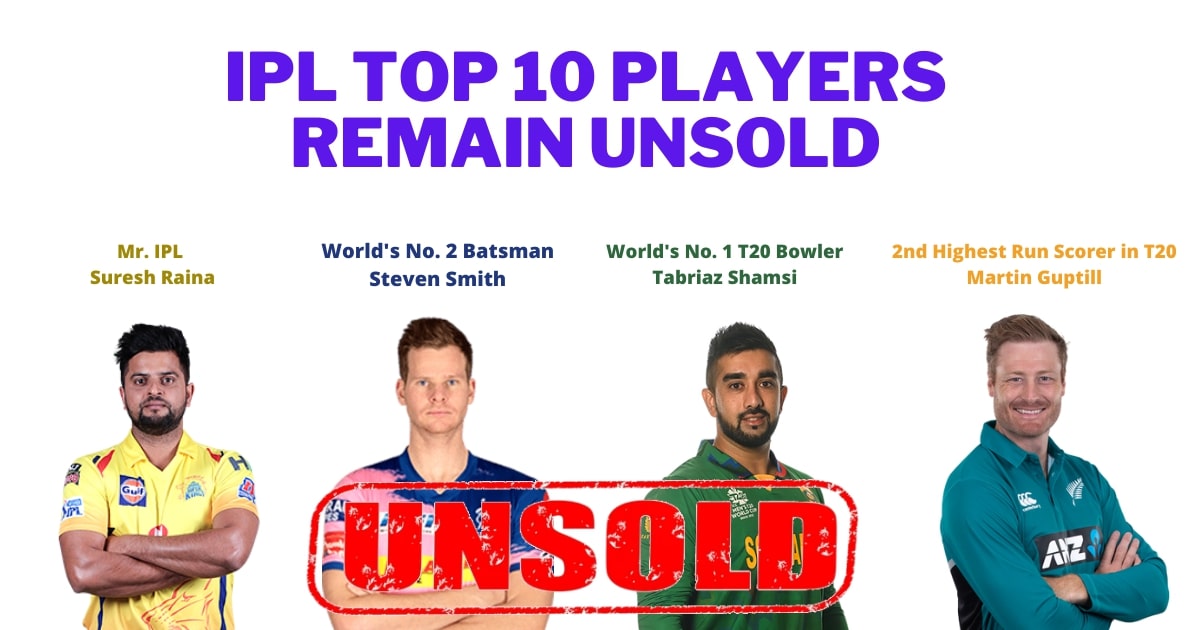 It's heart breaking moment for all the cricket lovers, when they got to know that Mr. IPL Suresh Raina is not the part of TATA IPL 2022 this year. Suresh Raina did not receive any buyer. Not a single buyer has approached Mr. IPL. Even Chennai Super kings did not show any interest in buying Suresh Raina. But why ? Why Suresh Raina and other top notch players are standing outside the ground ?
According to Akash Chopra in IPL not only best players play but Best of Best players play IPL. In IPL there is best of best competition happens every year.
Let's all know all those player who remain unsold in IPL mega auction 2022.
1. Eoin Morgan Remain unsold
Eoin morgan base price INR 1.5 Cr. England's winning captain Eoin Morgan remains unsold. He is one the players who took Kolkata Knight Riders in final matchs in 2021 as leading captin. This is true that he is not batted well in IPL until now. He could only achieve 133 Runs in 17 Matches in IPL. Where Kolkata Knight Riders had to spend more than 10 Cr, for them Eoin Morgan at INR 1.5 Cr could be a smart buy option, however unfortunately this did not happen. Kolkata knight riders spend INR 10 Cr for Shreyas Iyer.
2. Amit Mishra Remain unsold
Amit Mishra is the best leg spinner and put best of best efforts for Indian Cricket Team. But he did not get bigger chances to prove himself. Amit Mishra is the 3rd highest wicket taker. In addition to that he is the highest wicket taker in IPL indian bowler. He bagged 166 wickets in 154 matches. Followed by him there 2 players Lasith Maling and Dwayne Bravo. Thing which is not good about Amit Mishra is his fitness and his age. He is currently 39 Years old. This is the only reason Amit Mishra does not fit in any team in IPL.
3. Steven Smith Remain unsold
When we talk about the Test Cricket, Steven Smith is the world's no. 2 batsman. However he couldn't better in T20 performances. His strike rates remains very low in T20 format of cricket. As a foreign player in any IPL team he doesn't add any additiona value to the team. In 2021 he got a chance to play from Delhi Capitals, in which he scored 152 runs in 8 Matches and his strike rate remains 112.5. On the other hand Steven Smith and controversey remains as it is, no other team wants to damage their team because of Steven smith.
4. Shakib Al Hasan Remain unsold
Shakib Al Hasan is one those 2-3 players who get to play in IPL. Becuase of his all rounder skills he has good stand in IPL. He is the best all roudner in the worlds. On his name many records are written. As a foreign player in IPL he couldn't prove himself as good asset for the teams he played for. Also his batting styles doesn't match with IPL standard of cricket. He played with lower strike rate in IPL. Having base price as INR 2 Cr. no other franchise showed interest in Shakib.
5. Tabraiz Shamsi Remain unsold
Tabraiz Shamsi is the world's best T20 bowler. However in IPL 2022 there is no place for Shamsi. In IPL 2016 Tabraiz Shamsi played from RCB and in IPL 2021 he got the spot in Rajasthan Royals. But he could only perform 3 wickets playing 5 matches in 2021. And the worst economy of 9.5. Even if he crowned with world's best bowler, his performance against big teams remained Average. In addition to that there is no place for Average players in IPL 2022.
6. Mujeeb UR Rahman Remain unsold
Afghanistan's mistery spinner Mujeeb UR Rahman remained on high demand in T20 leagues in the world. Like PSL and BBL. He got many chances in IPL, however his magic couldn't work out. Indian players are smart enough to play against spinner bowlers and Mujeeb fails at this instance. Also Mujeeb's base price was INR 2Cr. which was unexpectedly very high, that was one of the reasons he couldn't get seat in IPL as backup spinner as well.
7. David Malan Remain unsold
England's hit machine David Malan, he is counted in top 5 batsmen in world's T20 leagues. In IPL 2022 he couldn't get any buyer. His base price was INR 1.5 Cr. However his deal value couldn't fit any of the franchises. In IPL 2021 KXIP has bought David Malan and he got to play only one match, in which he has score on 26(26) runs. His magic of batting not working on indian pitches. So no one has showed interest in buying David Malan.
8. Martin Guptill Remain unsold
You may get in shocke that Martin Guptill is the higest run scorer in T20 leagues. In 112 Matches he has score 3299 runs, having Strike rate of 136. In which 2 centuries are also included. If we talk about the stats Martin Guptill is ahead of Virat Kohli and Rohit Sharma. Still IPL teams did not considred him. In 13 matches he has scored 270 runs having Strike rate of 137. Which is considred as good performance.
9. Aaron Finch Remain unsold
Aaron Finch has made a debut in 2010. Since 2010 until now in 2021 he has played for 8 different teams. In this year as well Finch has base price of INR 1.5 Cr. But unfortunately his badluck not a single team showed interest in buying Aaron Finch. We would also like to share Aaron Finch, under his Captaincy recently Australis has won world T20 championship, World Cup. As of him many teams could consider him as a captain.
10. Suresh Raina Remain unsold
We all know and we are unhappy that Suresh Raina remain unsold in this IPL 2022. Many of his fans were hoping that Suresh Raina and MS dhoni jodi we would get to see again. He came with base price of INR 2 Cr. No team has bought Suresh Raina. However CSK has more than 2 Cr. amount purse balance remained. If CSK wants they could have bought Suresh Raina in place of Any other domestic player. But CSK did not try to do that. Even KXIP has more than 2 Cr. of amount in their purse. No one was ready to buy him in IPL 2022.